Designed to Cruise
The Caliber 47 is a pure cruising boat with a large center cockpit and a simple, powerful cutter rig. The bow features a long, wide sprit that acts as an anchor platform and the tack of the genoa, while the sugar-scoop stern has a swim platform and outside shower.
Below the water the 47 has a low-aspect cruising keel that combines the lift of a fin keel with the directional stability of a long, full keel. The rudder is protected by a robust full-length skeg and is attached with massive rudder bearings and a solid stainless steel rudder shoe. Given these appendages, the 47 can withstand a serious grounding and even will stand on her keel if the need ever arises to careen the boat.
The deck layout serves a cruising couple well by offering comfort, security, protection from the elements and handy sailing systems. The 47 was designed to be sailed by a couple, which in effect means by a lone watch stander, so all sail control lines need to come back to the cockpit. Knowing that all of these lines can contribute to cockpit clutter, the 47 has designated line lockers that keep sheets and halyards under control.
Because cruisers inevitably accumulate a lot of gear as they go and need to be well equipped for any contingency, the Caliber 47 has four large deck lockers, two forward where spare sails and running rigging can be stowed and two lazarettes for fenders, docking lines, diving equipment and jerry jugs.
The cockpit is the most used space on any cruising boat so it needs to be large enough for friends to gather but small enough to be secure and dry when at sea. The eight-foot-by-six-foot oval cockpit on the 47 has bench seats that are long enough for most adults to stretch out on and spacious enough for eight adults to gather for sundowners. With the dodger and Bimini rigged, the cockpit will be comfortable in steady rain or blazing sun.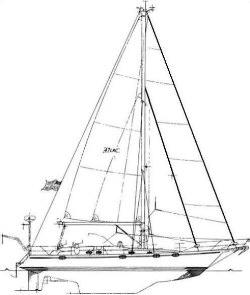 Caliber 47LRC SEries
LOA 52' 11"
LWL 39' 6" LOD 48' 7"
Beam 13' 2"
Draft 5' 2"
Disp. 33,000 lbs.
Ballast 13,000 lbs.
Sail Area 1,014 sq. ft.


Caliber Yachts, Inc. 4551 107th Cir. N. Clearwater, FL 33762 Ph: 727-573-0627 www.caliberyacht.com