before turning about swiftly and heading for deep water. I took the helm and made a series of circles, discovering that the 35 will just about turn in her own length.
There was 10 knots of breeze as we trimmed up, and soon we were easing along near six knots, about 50 degrees off the apparent wind. The 35 has moderately long fin keel with a fairly flat forefoot and a skeg hung rudder. We hardened the sheets and brought the boat up to 35 degrees. We slowed down bit but the boat seemed quite stiff. We came through the wind fast and easy and, just for good measure, executed an effortless jibe.
I made my way forward and rigged up the staysail stay and hoisted the staysail. While it was necessary to barberhaul the sheet to flatten the sail, I was surprised what boost the staysail gave us as we reached off toward the glimmering Sunshine Skyway bridge.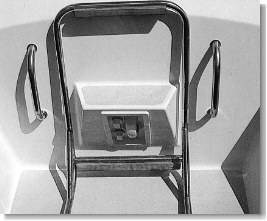 The swim platform has a folding ladder and handheld shower.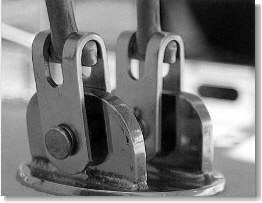 Caliber's chainplate system distributes the mast load throughout the hull.
I asked Ann and Peter what had persuaded them to purchase a Caliber. "We like boats that perform well," Peter explained, "but we are also reaching an age where we want more comfort down below. Also, we wanted to keep the draft under five feet, which we feel is a necessity cruising the west coast of Florida."
Reluctantly we came about and sailed on a broad reach back toward the marina. Even without any downwind sails, I was impressed with the light air performance. While some boats promise rocketship performance and others assure you that they can carry you around the world, the Caliber offers a measure of both. I wouldn't hesitate to deliver her across and ocean, but she is also a boat this is just plain fun to sail for an hour or two after work or to spend a weekend knocking about the bay. The Caliber 35 represents an excellent value in today's sailboat market. --John Kretschmer