The Caliber 35 is a versatile, shoal draft cruiser.
By John Kretschmer
with photography by John Hall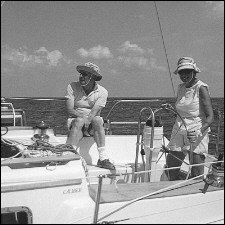 Beefeater II heads down Tampa Bay under a versatile rig that includes a self-tending staysail on a retractable inner forestay. Owners Peter and Ann Dawson, in bottom picture, chose the Caliber 35 for performance as well as comfort below and the boat's 4'6" draft, essential for west Florida's shallow waters.