JOHN & MARILYN O'BRYAN

Caliber 35 'Sea*lebrity'

Hixson, Tennessee

When they weren't busy working as engineering managers for a large industrial firm, John and Marilyn spent much of the last 10 years taking sailing classes and bareboat cruises. All the while,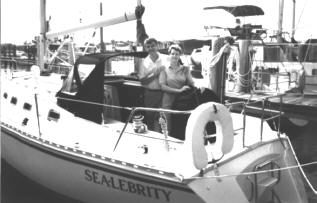 scrutinizing boats, deciding which one to buy. They purchased their Caliber 35, "Sea*lebrity," in 1992 and have sailed her around Chesapeake Bay and on the TVA lake system near their current home. Their plans call for offshore voyages to the Bahamas and Caribbean, through the Panama Canal, and to the West Coast. Perhaps Hawaii and beyond. They were looking for a boat that could fulfill their dreams.
Engineers Choose Caliber
"When we were in the market for a boat, our focus was on construction, performance and safety, plus a "within reason" price tag. Also, being traditionalists, the other criteria we held near and dear were that the boat we'd buy look like a sailboat with clean and distinctive lines, and be outfitted with quality fittings and gear. Our exploration process led us to Caliber, and we're exceedingly pleased with every aspect of "Sea*lebrity." She's a wonderful sailboat, and we really appreciate her seaworthiness, response to the helm in rough water and high winds, personal accommodations, and ease in keeping her shipshape. We made a great choice! We frequently have guests and visitors aboard, and almost all have had high praise for the overall quality and performance they observe and experience. It's really a pleasure for us to receive such compliments. Recently a sailor of many years experience from the West Coast was highly impressed and very expressive about the quality of construction and fittings he saw aboard. This sailor is very discerning, and not given to idle compliments." --John