JEFF & TERI HUNTINGTON

Caliber 40 "Sand Dollar"

San Francisco, California

Jeff has been sailing for over 30 years. He started out dingy racing, and over the years the boats got larger and larger as his family grew. Teri has been sailing for 25 years, learning by racing in a Lido 14. They do most of their sailing in the heavy wind conditions of San Francisco Bay area and seaworthiness was a primary requirement for their new boat.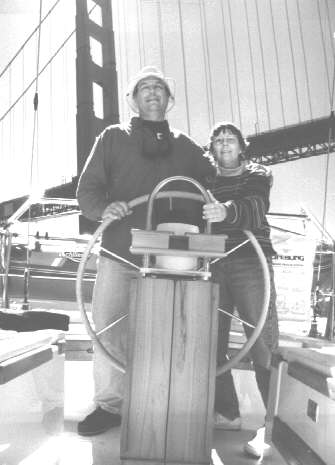 Five Year Search for the Perfect Boat
"I had looked for our "next boat" for over five years extensively researching the market before deciding upon a Caliber 40. I am convinced that the Caliber 40 is the best combination of a roomy, comfortable interior, excellent handling characteristics, and sailing performance, all packaged in a heavy well-built offshore yacht! After crawling around and poking into every corner of my boat for the last three years (installing all my own equipment), I am convinced I have found no area where Caliber has compromised on the strength or structural integrity of the boat. I don't believe there is a more strongly built boat on the market today." --Jeff