HELMUT BLUM & ANDREA SCHWAIGHOFER

Caliber 38 "Viva"

Munich, Germany

The extended first voyage of Dr. Helmut Blumís Caliber 38 included every condition from sunny skies and light winds in the waters off Florida, to howling gales in the North Atlantic, before arriving home some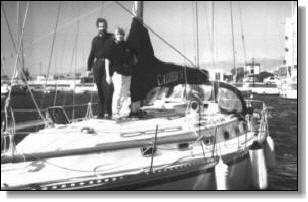 Atlantic Crossing
"Andrea and I launched Viva in December 1991 in Palmetto, Florida, and sailed her down to Key West and around to the Bahamas. After a short stay on Green Turtle Cay, we headed for Bermuda in May 1992. Uncommon weather patterns made the 800-nm trip exciting and fast, taking six days at an average speed of 5.7 knots.
From Bermuda, we planned to head for the Mediterranean with a stopover in the Azores, but the irregular winds allowed no easterly course. We headed north for six days, mostly in 20 to 25-knot easterly winds. Because I had to get back to my office in Munich, we finally had to abandon our course and sail to Newport, RI. From there, Andrea set out in July aboard "Viva" along with Jim Stanek, a professional skipper.
During the 2,000-nm trip to the Azores, "Viva" had to cope with hard conditions in the North Atlantic, including winds of up to 45 knots, and severe and frightening thunderstorms. The trip took 13 days and 16 hours, at an average speed of more than six knots -- a very fast passage for a 38-foot cruising boat. I joined up with Andrea in Horta for the third and final part of "Vivaís" voyage, another 1,200 nm to Portugal, Gibraltar and Spain. This included an exciting mixture of all kinds of weather conditions: strong head winds up to 45 knots, but some rare, nice downwind courses, too.
After 6,000 nm across the Atlantic Ocean, we are completely happy with our Caliber 38. She performed very well, even in the worst weather conditions in the open ocean, where you are on your own. Our Caliber gave us at all times the comfortable feeling of absolute confidence in her reliability and strength. She showed surprising performance, especially on courses to windward. With Caliber, we made the right choice for a cruising boat thatís safe and comfortable, but fast as well." --Helmut