ALAN KASHDAN & SON (GREG)

Caliber 47 "Aeolian Harp"

Montville, New Jersey

Alan has been boating for over twenty years. He has held a sailing instructors license and has enjoyed taking courses with Offshore Sailing School in Block Island. He has bare boated extensively along the West coast of the US and Caribbean. Greg,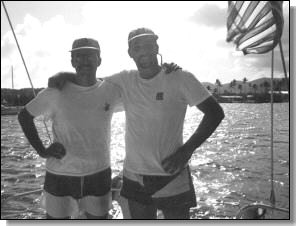 A Rough Maiden Voyage
"On our maiden voyage from Clearwater to Key West we either motor-sailed or had 30 knot winds in which we ran a reefed main and genoa--feast or famine for sure. The 36 hour trip was characterized by a series of storms, each and every one different. Each one dramatic in its own right.
I had the helm for the first one in 30 knot winds. With full weather gear worn by all four crew (myself, son Greg, daughter Kim and Zolt the hired captain) the Caliber 47 took each of the eight to ten foot waves in stride! Even though the bow would occasionally ship some water, the center cockpit was always surprisingly free from sea water. The boat handled the rough waves and wind conditions uneventfully. Greg was at the helm for the second storm coming four hours after the first. This one hit during the dark of night. The winds were gusting to 35 knots, the seas building ten to twelve feet now. My daughter felt so comfortable that she refused to put on the uncomfortable rain gear, sat right down on the starboard side of the companionway tucked under the dodger, braced her feet against the companionway, and stayed dry and comfortable despite the seas, wind and the driving rain! And to think, this was her first experience at sea and she was handling it like a pro.
The bow was occasionally shipped green water and still my daughter without rain gear, remained dry!. The boat rode smoothly, rhythmically, and again, uneventfully. We were surrounded by a ring of clouds and storms. Lightening flashing between them. It was very dramatic setting. Even on this maiden voyage, we were all confident in the ability of our new yacht to carry us through and she did!" --Alan