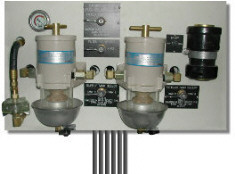 LONG RANGE SYSTEMS-- EXTRA FUEL AND WATER, FOR EXTRA PEACE OF MIND.
Cruising the open sea is one of life's great adventures. But as experienced blue-water sailors know, the fun can easily be dampened by nasty surprises. Such as violent weather. Uncooperative winds. Questionable water supplies and fuel rip-offs at out of the way places.
Fortunately for the owner of a Caliber LRC, such difficulties aren't so disheartening. That's because we've designed our fuel and water tankage for long-range capacity and dependability, to give you more freedom and control at sea.
The fuel tanks on the LRC carry an astounding amount of fuel. This extends her motoring range many hundreds of miles beyond other boat in her class. When becalmed, or when a storm is threatening, the LRC series can motor vast distances to reach more favorable conditions for sailing. As for water, the LRC also hauls large quantities. Sufficient to supply two people well beyond a month at sea.
With extra large capacities, the LRC won't constantly have to top off at foreign ports, where the fuel and water prices may be high, and the quality suspect.
As further assurance against trouble, the LRC is equipped with dual tanks and filters for both fuel and water. Should a problem arise in one tank, a simple flip of a lever accesses the other. Dual Systems--a must for all serious offshore cruisers.
Seeing is Believing--Caliber Easy-View™ Tank Inspection Plates.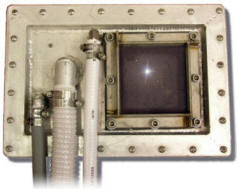 There is no more reliable gauge of the condition and level of fuel or water tanks than your eyes. With the LRC SEries of yachts, Caliber has incorporated clear plexiglass viewing ports so you can do just that-- View your tanks. Not only can you get an approximation of the level remaining, but also you can look inside to make sure all is right. A factor that will reassure you that you have a reliable source when you need it. When it comes time to annually polish your tanks, there is no better way than through the oversized inspection plate which is removable for this clean-out process.